The 25th International Symposium on Wireless Personal Multimedia Communications (WPMC 2025) was held from Sunday, October 30 to Wednesday, November 2, 2022.
The WPMC was launched at YRP in 1998, the year after the opening of YRP, as an international research gathering to present research results in the wireless field from around the world, to promote exchanges of ideas and opinions among researchers, and to foster young researchers in each country. Since then, it has been held jointly with the National Institute of Information and Communications Technology (NICT), the YRP Association, and research organizations in the host country. The conference is also co-hosted by CTIF Global Capsule (CGC), Aarhus University, Denmark.
This year's WPMC, the 25th Silver Jubilee, was held at the Conference Center in Herning, Denmark. Due to the global coronavirus outbreak, the WPMC was held in Okayama, Denmark, for the first time in three years without a remote site, after two years of anomalies, including a remote site the year before last and a hybrid site and remote site in Okayama last year.
Although entry and exit restrictions have been significantly eased in Japan, as if to coincide with the WPMC, the number of participants exceeded expectations at around 200, amid concerns about the eighth wave of coronavirus infections.
The number of papers submitted exceeded expectations, with 166 papers submitted and 100 papers accepted (acceptance rate of 60%). The number of submissions from Japan (34), Denmark (18), and Europe was high, but the large number of papers submitted from Pakistan (4), Thailand (8), India (9), and other Asian countries was also a feature of the WPMC. The number of submissions from Asia was also high, with Pakistan (4), Thailand (8) and India (9).
We would like to express our deepest gratitude to all the organizations involved for their cooperation in organizing this event.
Greetings from the Organizer
Professor Anders Frederiksen, Head of Department, BTEC, Aarhus University
Professor Ramjee PRASAD, General Chair of WPMC2022
Dr. Shingo Ohmori, Advisor, YRP R&D Promotion Committee /WPMC Steering Board Co-chair
Dr. Naoto KADOWAKI, Vice President, NICT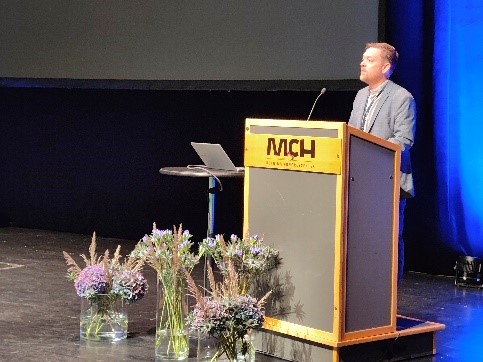 Opening session
Howard Benn, Samsung Electronics R&D Institute, United Kingdom
"6G-The next hyper connected experience for all"
Mona Ghassemian
"Can you have the & Senses Feeling? A Perspective into the Future of Haptic ad Multimodal Communications."
Kwang-Cheng Chen, IEEE Fellow, Professor, University of South Florida, USA
"Communication for Artificial Intelligence : Wireless Robotics."
Presentation of best paper and best student paper
The WPMC aims to integrate academic research and business, and at this year's WPMC2022, the Technical Program Committee presented and awarded a total of 15 excellent papers, three from each of the following five fields, from the standpoint of selecting excellent papers from the traditional academic side to the wider business development side.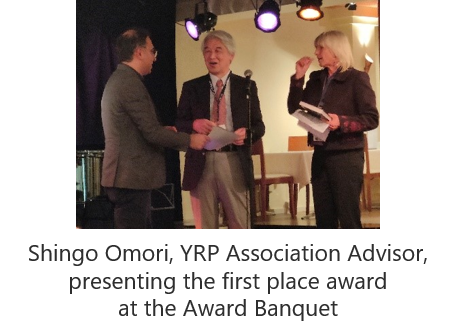 Contribution to Academic Research
Satoshi Denno, Takuma Fujii & Yafei Hou
"Adaptive Collaborative Relaying High Mobility Environment"
Adham Taha, Mathias Thorsager, Sune Kroyer, Tatiana Madsen & Hans-Peter Schwefel
"Network-Independent Clock Offset Estimation Using Correlated Sensor Data"
Ahmed Nor, Seyed Salar Sefati, Simona Halunga & Octavian Fratu
"Novel Routing Protocol based on Prediction of Energy Consumption and Link Stability in Mobile Internet of Thing (MIoT)"
Contribution to Business Development
Yi-Cheng Huang, Shao-Yu Lien, Chih-Cheng Tseng, Der-Jiunn Deng & K.C. Chen
"Universal Vertical Apprications Adaptation for Open RAN : A Deep Reinforcement Lerning Approach"
Frederic J Harris & Uma S Jha
"Generation of Precision Reference Clocks Utilizing Digital Techniques"
Troels B. Sorensen, Rasmus Liborius Bruun, Rene Marcker & Preben Mogensen
"Comparison of cm – and mm – Wave Channel Characteristics between Autonomous Mobile Robots in a Small l4.0 Manufacturing Facility"
Contribution to Globalization of Research
Azril Haniz, Ta,eshi Matsumura, Haider Alobaidy, Mehran Behjati, Rosdiadee Nordin, Nor Fadzilah, Mandeep Singh & Nordin Ramli
"Automatic Modulation Classification using Graph Convolutional Neural Networks for Time-frequency Representation"
Krasimir Tonchev, Antoni lvanov, Agata Manolpva, Nikolay Neshov & Vladimir K. Poulkov
"Hybrid SUN-LoRa Network on a Low Altitude Platform for Remote Water Quality Monitoring"
Jalal Jalali, Atefeh Rezaei, Ata Khalili & Jeroen Famaey
"Power-efficient Joint Resource Allocation and Decoding Error Probability for Multiuser Downlink MISO with Finite Block Length Codes"
Contribution to Industrial Research Excellence
Takeshi Mutsumura & Hirokazu Sawada
"Investigation of Beyond 5G-based Physical Radio Node Emulation for Large-scale Wireless Emulator"
Ana Maria Dragulinescu, loana Marcu & Ciprian Zamfirescu
"An End-to End LoRaWAN-based IoT Platform with Built-in anetwork Covertage Testing Capability"
Reo Gakumi, Hiroko Masaki, Keiichi Mizutani & Hiroshi Harada
"Video Transmission Trial by Wireless Multi-hop Network based on Wi-SUN FAN"
Contribution to Research on Fundamental Theory
Austin Bristow & Kwang-Cheng Chen
"Low-Complexity Quantum Channel Phase Estimation"
Harshal More, Ernestina Cianca & Mauro De Sanctis
"Posisioning Performance of LEO Mega Constellations in Deep Urban Canyon Environments"
Fumihide Kojima
"Low-Latency Frame Forwarding Scheme Applicable to the Heterogeneous Channel Allocated Low-Energy Wireless Grid Structure"
For more information on WPMC2022, please visit the official WEB site (25th International Symposium on Wireless Personal Multimedia Communications (au.dk)).
The next 26th WPMC2023 is scheduled to be held in Orlando, Florida, USA, from November 28 to December 1, 2023. In addition, at the WPMC Steering Committee meeting held on October 31, 2024, WPMC2024 was nominated to be held in New Delhi, India.
WPMC2022 Data SUMMARY